The holidays are always a main focus/dread for people when they think of weight gain.  People are always wondering how to stop the holiday weight gain and are stressed out over what are they going to eat, is it too much etc. It is very stressful and chaotic time to begin with and then you add the stress of losing all the results of your hard work.
I don't believe people just magically lose their motivation during the holidays, you lose your momentum.
You have worked hard over the course of the year.  Became better at your major lifts, lost some inches, began to eat better and form better habits…….ALL HARD WORK AND COMMITMENT!!!
So what happens during the holiday season?
Our motivation is always there….Our momentum seems to slow down due to all the other things going on.
Your time will be at a premium, your stress levels may be a little bit higher than normal, and those things can legitimately effect your momentum.
SO WHAT CAN YOU DO TO SLOW DOWN EVERYTHING AND KEEP YOUR MOMENTUM?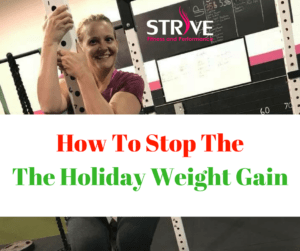 Here are 4 steps you can take to maintain your momentum:
1. Plan your workout schedule NOW.
Seriously, if at all possible don't play it by ear during the holidays. I'm going to maintain my schedule to a T, and make sure I get every training session in during that time. I may have to do it earlier or later than normal because of family commitments, but I'm going to make it happen. 
 2. Pick a mini goal between now and the end of the year.
This might go back to the motivation side of things, but pick a mini goal. Is there a Santa Shuffle, or Turkey Trot you want to run, walk, or ruck? Is there a little getaway where you want to look and feel your best with your friends and family? Is there a huge weightlifting meet the week after Thanksgiving?  That mini goal can help hold you accountable internally, while your gym family at Strive can hold you accountable externally.
3. Join us for our HOLIDAY ACCOUNTABILITY GROUP
Starting after Thanksgiving and running through the New Year can be the tough time.  Family parties, staff parties and get together's with friends can get overwhelming.  Here at Strive, we put on a HOLIDAY ACCOUNTABILITY GROUP during the season of chaos.  This group is a lifeline for many people during this time to get a hold on the holidays and is a resource for healthy recipes and new habits.  LEARN MORE HERE
4. Commit to a de-stressed holiday season
This is a big ask I always tell myself before the holidays that this year I won't get stressed about family member X, or if there are enough desserts.
Repeat it with me…there are always enough desserts, there are always enough desserts- it can be our holiday mantra. Enjoy the time with your family, or the relaxation of no work that day, and let the stress roll off your back.
Try out the 4 part Momentum maintainers. Your motivation is still there, just keep rolling!
Committed to your success,
Derek