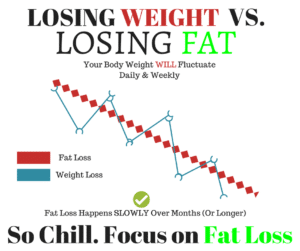 Isn't it interesting how obsessed we get with losing weight?
Seriously, a LOT of people will start their day happy or sad based entirely on the 3-digit number they see flashing back at them each morning.
But what's even more interesting than our obsession with losing weight is the fact that "weight loss" isn't always the most useful marker of progress.  You see, there are a buttload of things that influence your daily & weekly body weight….
🍕 A higher/lower salt intake than normal
😷 Food intolerance's
🙋 Where you are at on your cycle
💦 Hydration levels
💩 You need to good to the bathroom
🍔 Food still in your body
💉 Hormones
💊 Supplements
💪 DOMS from your heavy workout
The list could go on and on and on….
You know what you don't see on that list?  FAT LOSS
Reason being, fat loss doesn't happen over the course of a day or even a week (well, it does "technically", but not in a very noticeable or meaningful way.)  Instead, fat loss happens over the course of multiple weeks and months.
So really, it is just a matter of understanding that weight loss and fat loss are not synonymous.  Once you realize that, you can start taking steps that will put the power of the scale back in YOUR hands.
✅One way is by taking measurements:
Soooo many things influence your scale weight, which makes it difficult to know if you are making progress.  But if you are losing inches, even at the same weight, it is a good sign you are losing fat!
✅ Another tip is to start analyzing your AVERAGE weight over the course of weeks and months.
How to do it

Take your weight in the morning each day…..Don't stress over the number
At the end of the week…Add up all the numbers and divide by seven
This will give you the average weight over the course of the week
The bottom line:  Don't let your daily and weekly fluctuations in body weight discourage you.  Instead focus on fat loss by tracking your measurements, weight averages and progress pictures